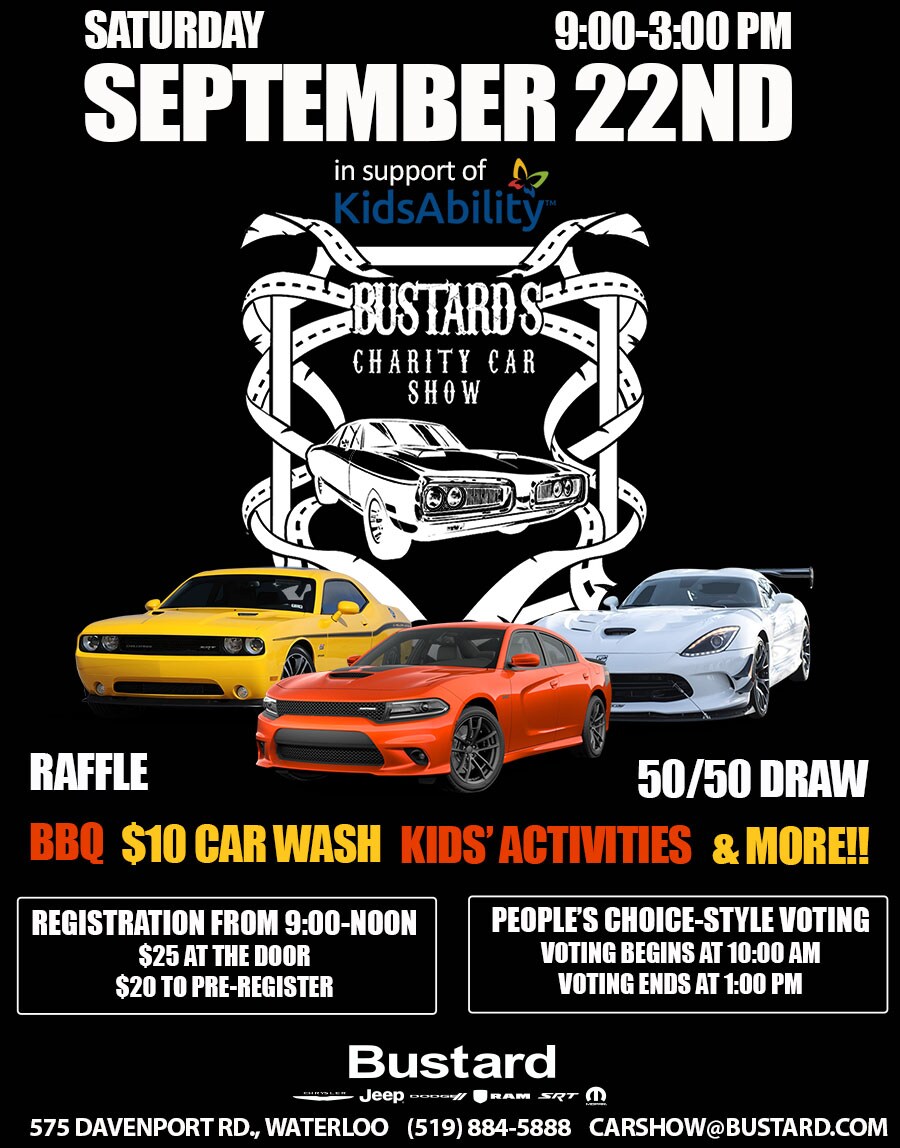 On Saturday, September 22rd, 2018, Bustard Chrysler is proud to host our third annual Bustard's Charity Car Show in support of Kidsability! Kidsability provides resources and services to local children with a wide range of complex special needs so they can reach their full potential. This vibrant organization provides support to children with physical and developmental disabilities, and coordination and communication challenges. The last two years, we raised over $2000 for Kidsability and our goal for 2018 is $3,000. Help us help Kidsability!
Make sure to
LIKE
and
SHARE
our
FACEBOOK PAGE
! We'll be posting regular updates, including a list of categories, plus some fun contests, leading up to the show!
First we'd like to thank our AMAZING title sponsors for their financial and in kind donations to our event! We couldn't have done it without them!
•    TD Canada Trust (Platinum Sponsor)
•    Krown Rustproofing (Gold Sponsor)
•    Steffler Tools (Silver Sponsor)
•    Huether Hotel (Silver Sponsor)
•    Murphy's Law (Grant Schwartz Meet and Greet)
•    Allstate Insurance in partnership with KW Cornhole (Cornhole Tournament)
•    M&M Food Market (Food sponsor)
•    Sobey's Fischer Hallman (Food sponsor)
Bustard's Charity Car Show is a fun event for the whole family. The main event is a car show and shine, but its way more than just a car show!  Other great activities include a raffle with over $4000 in great prizes, 50/50 draw, silent auction, BBQ, and charity car wash! Local DJ Adam Jasim will be spinning some originals, plus the best in oldies, rock, country and pop! This year, we have also partnered with Allstate Insurance and KW Cornhole to host a cornhole (beanbag toss) tournament with some great prizes! Teams can enter for $50 and all proceeds go to Kidsability. Local moonshine distillery Murphy's Law has also partnered with us to bring celebrity Grant Schwartz, who worked in famed show Vegas Rat Rods Welder Up shop, to the show for a meet and greet! Registration for the event is $25 at the door, $20 if you pre-register. Raffle and 50/50 tickets will be sold for a small cost, with all proceeds to Kidsability. Spectators are free, with small donations requested for the car wash and BBQ. All proceeds go to support Kidsability and help local children in need!
Bustard's Charity Car Show will be taking place on Saturday, September 22nd from 9:00 am to 3:00 pm at the Bustard Chrysler dealership on 575 Davenport Road in Waterloo.
We will be accepting registrants from 9:00 am to noon. Awards and raffle prizes will be handed out beginning at 2:00 pm.
Registration is $25 at the door, with a $5 discount applied if you pre-register ($20 registration fee). You can pre-register by emailing carshow@bustard.com, or call (519) 884-5888, ext. 273. Spectators are free!
For $5, get yourself a hamburger or hotdog and a pop. Bustard's Auto Detailing will be offering exterior washes for a minimum $10 donation (they're usually $30!), with all proceeds to Kidsability!
Raffle and 50/50 draw tickets are $3 for one ticket, $10 for four tickets, and $20 for ten tickets. Local community organizations, individuals, and businesses have kindly donated over $4000 in raffle prizes. Check out our blog post listing the prizes and donating businesses to plan ahead! We're also changing things up this year with plans to run a silent auction! We've got some great prizes already, including a signed T-Shirt from Grant Schwartz of Murphy's Law, a Google Home, one-night hotel stay, theatre tickets, gift baskets, and more! Stay tuned for detailed information on silent auction prizes and starting bids!
We are still looking for sponsors and donors for this year's event, so if you own a local business and want to get involved, please reach out to carshow@bustard.com!
If you have any questions, or wish to get involved, don't hesitate to reach out to carshow@bustard.com or call us at (519) 884-5888, extension 273!