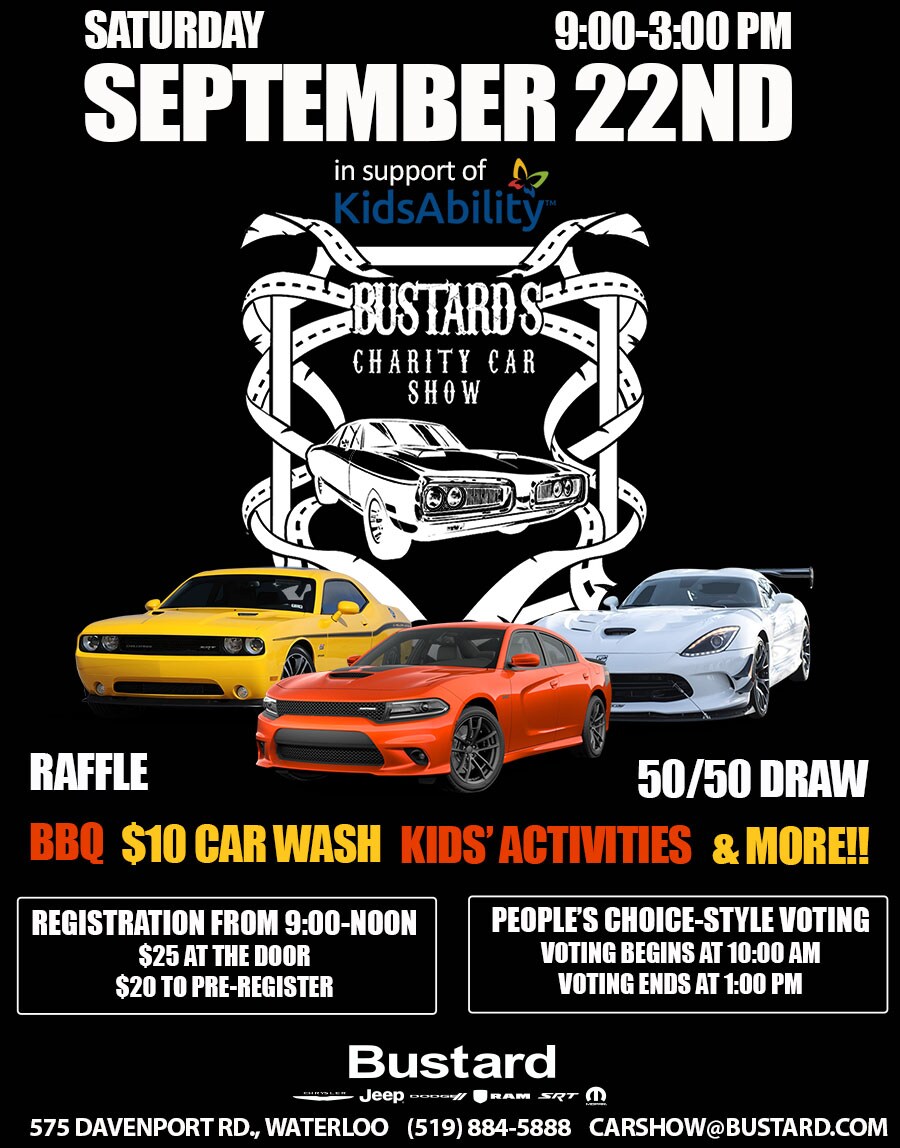 On Saturday, September 22rd, 2018, Bustard Chrysler is proud to host it's third annual Bustard's Charity Car Show in support of Kidsability! Make sure to LIKE and SHARE our FACEBOOK PAGE!
Kidsability provides resources and services to local children with a wide range of complex special needs so they can reach their full potential. This vibrant organization provides support to children with physical and developmental disabilities, and coordination and communication challenges. Last year we raised over $2000 for Kidsability and our goal for 2018 is $3,000. Help us help Kidsability!
Bustard's Charity Car Show will be taking place on Saturday, September 22nd from 9:00 am to 3:00 pm at the Bustard Chrysler dealership on 575 Davenport Road in Waterlo
o. We will be accepting registrants from 9:00 am to noon. Awards and raffle prizes will be handed out beginning at 2:00 pm.
Registration is $25 at the door, with a $5 discount applied if you pre-register. You can pre-register by emailing carshow@bustard.com, or call (519) 884-5888, ext. 273. Spectators are free!
Bustard's Charity Car Show will be a fun event for the whole family, with some other great activities like a DJ, kids' activities, raffle with some great prizes, 50/50 draw, and a BBQ! Most activities are free, aside from the raffle, 50/50 draw, car wash, and BBQ, which will be available for a small cost. All proceeds will be donated to Kidsability!
For $5, get yourself a hamburger or hotdog and a pop. Bustard's Auto Detailing will be offering exterior washes for a minimum $10 donation, with all proceeds to Kidsability!
We are looking for sponsors and raffle prize donors, so if you own a local business and want to get involved, please reach out to carshow@bustard.com!
If you have any questions, or wish to get involved, don't hesitate to reach out to carshow@bustard.com or call us at (519) 884-5888, extension 273!