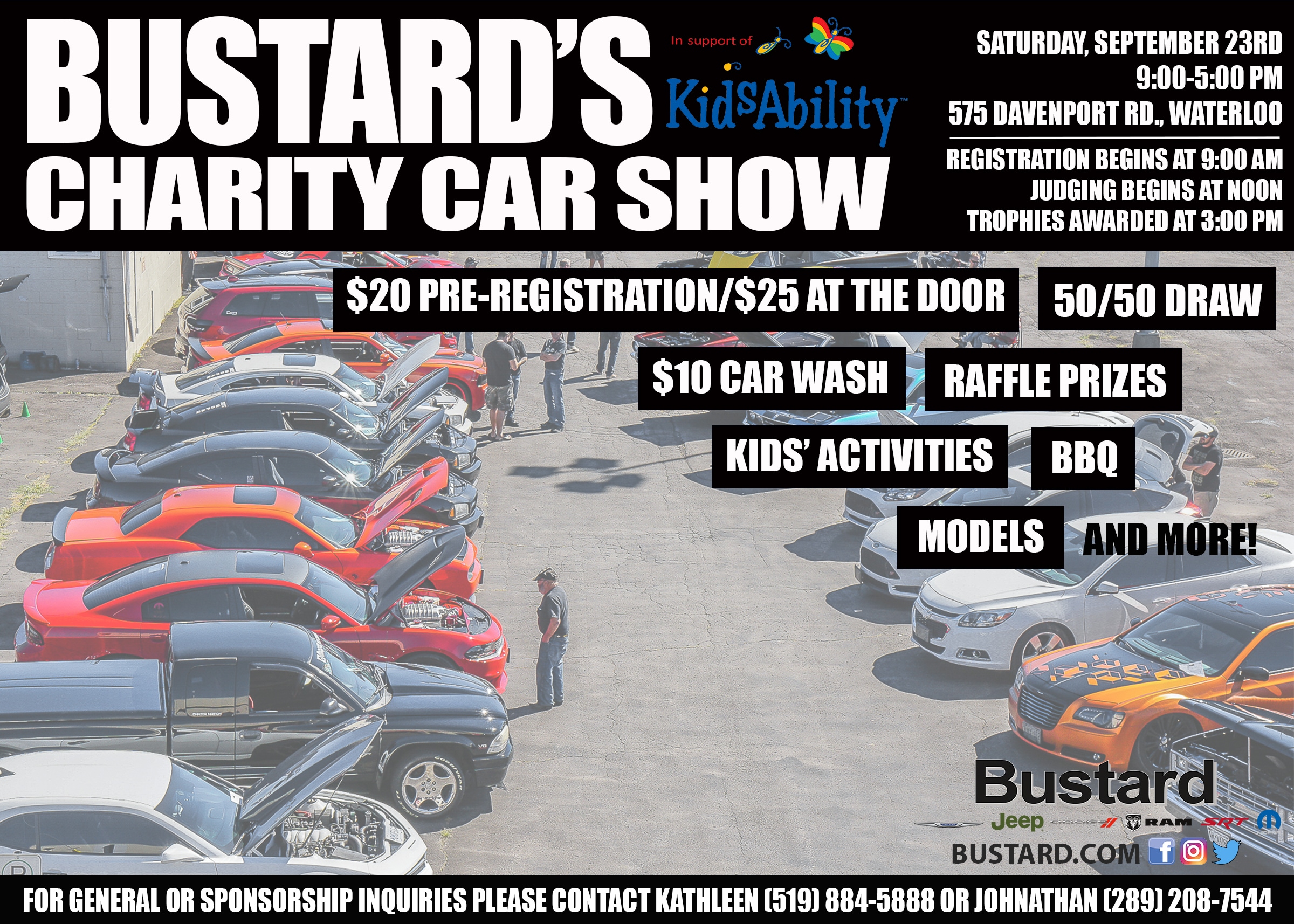 On Saturday, September 23rd, 2017, Bustard Chrysler is proud to host it's second annual Bustard's Charity Car Show in support of Kidsability! Make sure to LIKE and SHARE our FACEBOOK PAGE!
Kidsability provides resources and services to local children with a wide range of complex special needs so they can reach their full potential. This vibrant organization provides support to children with physical and developmental disabilities, and coordination and communication challenges. Last year we raised over $2000 for Kidsability and our goal for 2017 is minimum $3000! Help us help local kids!
Bustard's Charity Car Show will be taking place on Saturday, September 24th from 9:00 am to 5:00 pm at the Bustard Chrysler dealership on 575 Davenport Road in Waterlo
o. Judging will commence at noon and continue until 3:00 pm. We will be accepting registrants from 9:00 am to 1:30 pm.

Thanks to our AMAZING title sponsors for their financial and in kind donations to our event! We couldn't have done it without them!



Check out our sponsorship page for more info on sponsorship opportunities, and for more info on our 2017 sponsors and donors!

Registration: 25$ day of (pre-registration is not mandatory) - we accept cash, debit, and credit cards. If you pre-register for Bustard's Charity Car Show, we will discount your registration fee to $20. You can fill out the form to your right to pre-register!


Last year's vehicle classes included:
Best in Show

 
Best Muscle Car

 
Best Tuner

 
Best JDM
Best Tires/Rims

 
Best Sound System

 
Best Bike

 
Best Jeep/SUV

 
Best Truck

 
Best High End Luxury Model

 
Best Interior

 
Best paint/wrap

 
Best Classic

 
Best Engine
We are open to suggestions for additional classes! We will be giving away some awesome trophies and other prizes to the winners!
Bustard's Charity Car Show is a fun event the whole family can enjoy, and we will feature some other awesome activities such as a DJ, kids' zone, raffle with some awesome prizes, 50/50 draw, and food/drinks. Most activities will be free but we will be requesting donations in support of Kids Ability. Raffle tickets and 50/50 draw tickets, as well as BBQ food will be available for a small cost.
Our Fine Details department will be offering exterior car washes for a minimum 10$ donation (or 5$ with a canned food item!) with all proceeds donated to Kidsabiility!

We are currently looking for sponsors and raffle prize donors. Check out our sponsorship package for more info. If you are interested in getting involved as a sponsor/donor, please email kathleen@bustard.com or call (519) 884-5888 and ask for Kathleen!
CLICK HERE TO VIEW OUR SPONSORSHIP PACKAGE!