Above all, we at Bustard Chrysler Waterloo understand that having a safe and reliable vehicle is more vital to you then ever! Accidents happen. Cars break down or are written off. Whether you're an Essential Worker, or a busy parent at home with mouths to feed, we understand that having a safe and reliable vehicle is important to you.


We are pleased to announce that Bustard Chrysler Waterloo's Sales Department is open for business, appointments preferred. We understand, however, that you may not be comfortable visiting our store and that's no problem! If you are in a bind and require a new or used vehicle, but do not feel comfortable visiting, we have a long list of resources on our website which allow you to complete the process remotely.
We are pleased to offer a comprehensive digital experience. Our Sales Team is responding to all online inquiries and can be reached anytime by our 24/7 website chat, or by emailing waterloosales@bustard.com. Whether you are in a bind and need a safe vehicle RIGHT NOW, or you're planning to purchase in a few months, our Sales Team is well-equipped to assist you, from the moment you decide on a vehicle and contact us online, to negotiating, to having it delivered directly to your door!
We know that most of you already do not want to spend hours at the dealership, let alone during these during these crazy times. Bustard Chrysler Waterloo is pleased to offer a robust online buying platform to ensure yours, and our employees', safety.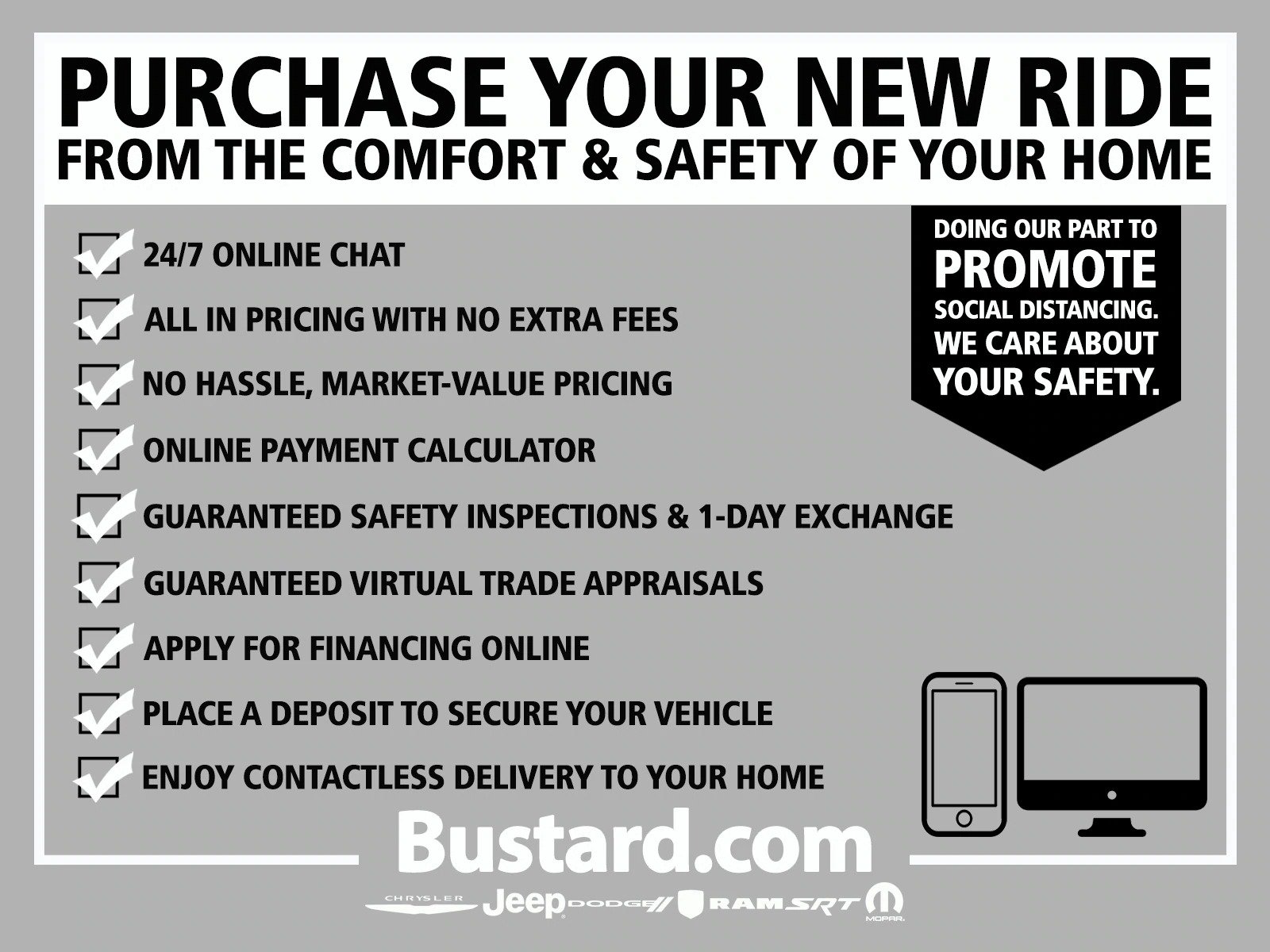 Why Visit Bustard Chrysler Waterloo's Digital Showroom:
✔ 
No-Hassle, Market Value Pricing
Save time and money with Bustard's Market Value Pricing. Every hour we poll pricing on thousands of similar vehicles currently on the market to ensure you are getting the best deal.
✔ 
All-In Pricing with no extra fees
We never take advantage of our customers. The price you see online is the price you'll pay plus HST and licensing!
✔ 
Online Payment Calculator
We offer an online payment calculator integrated with all the major banks so you can determine your vehicle payment based on your down payment and interest rate (NOTE: Finance terms are ultimately based OAC (On Approved Credit) and may vary depending on your personal situation). You can access payments for any of our New or Used vehicles by selecting "Calculate Payments" on the right-hand side of the Vehicle Details Page for the unit you desire. Online Payment Calculator provided as a guide only. Please speak with a member of our Sales Team for more information on how you to determine exact payments.
✔ 
Apply for Financing Online
Use our Secure Credit Application to apply for financing online, and get approved within 24 hours. We have over 30 years of credit experience and our team is committed to getting you approved, whether you have good credit, bad credit, or no credit!
✔
Virtual Trade Appraisals
✔ 
Review Service and Maintenance Contracts Online
Check out our Extended Warranties and Service Contracts page for more information on the various types of Service and Maintenance Contracts we offer. Note, we are unable to display detailed pricing on the available protections, as pricing varies significantly and is dependent on the vehicle year, make and model. Speak with our Sales Team for more information.
✔ 
Put Down a Deposit for Your New Ride Securely Over the Phone
Secure your new vehicle with a deposit over the phone. Stay tuned for online deposit options!
✔ 
Sign Your Sales Contract Securely Online Using DocuSign
Sign your sales contract securely online using Docusign from the comfort of your home!
✔
Contactless Home Delivery
To ensure your safety, we offer a contactless, at-home vehicle delivery. There's nothing like looking out the window of your home to find your beautiful new vehicle parked in your driveway, sanitized, and ready for your next essential trip!
✔ 
24 Hour Exchange Policy
While we are positive that you will be happy with your new vehicle, we do offer a 24-hour exchange policy for your peace of mind. If you are not happy with your vehicle purchase, bring it back within 24 hours to exchange for something else. Call dealer at (855) 894-5567 for details.