Espresso, Whiskey, and Bread at Death Valley's Little Brother in Uptown Waterloo
Espresso, Whiskey, and Bread at Death Valley's Little Brother in Uptown Waterloo
Posted on September 1, 2017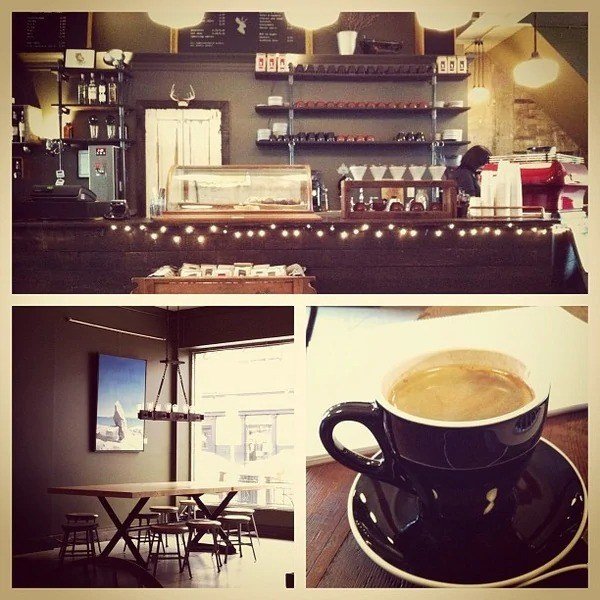 Death Valley's Little Brother in Uptown Waterloo offers espresso made perfect – the perfect bean, the perfect roast, the perfect grind and the perfect pull. This unique and extremely well-decorated café in Uptown Waterloo also offers whiskey for when you need to take it down a notch! And you can't forget the yummy treats on offer, a variety of tempting baked offerings including muffins and cookies!

So where did they get that interesting name? It all starts with the jackalope! It is one of the rarest animals in the word – a cross between a pygmy-deer and species of killer rabbit that is extremely shy and has never been caught alive!

It is said that one may capture a jackalope by putting a flask of whiskey out at night. Once the jackalope is drunk on whiskey, it will be easier to catch. Known by the ancients as "deerbunnies", the modern and fearsome name jackalope was adopted in the early 1960s. Death Valley was one of the most fearsome jackalopes that ever roamed, until he was defeated many years ago. When his brother, Whisper, took over, he had some different ideas for solving the warren's problems – nibbling coffee beans in the morning, and sipping whiskey at night! Death Valley's Little Brother carried forth Whisper's idea, and customers enjoy both their delicious espresso-based coffees and rich whiskeys night and day!

Espresso is not an art, it's a craft. DVLB uses coffees roasted in small batches, right here in Ontario. They make regular visits to their suppliers and work closely with their roasters to ensure a smooth bean profile. Grinding of the beans is one of the most important steps in getting the most from the beans, however temperature control is a close second. Too hot, and the coffee will be burned. Too cold, and you will not have optimal flavor. DVLB is constantly adjusting its machines and routines to ensure the best possible flavor!

If you happen to pop over to Death Valley's Little Brother, definitely try the pour over. It's a rich espresso drink, preparing by combining fresh espresso beans with hot water for an extra rich coffee. Their pour overs are rich, clean, intense, full of flavour, and of course energizing! If you're looking to imbibe on something stronger, they offer some incredible aged whiskeys that will please even the most discerning of tastes!

You may ask 'why is a car dealership writing about a local café?" Well, first and foremost, we LOVE the wonderful drinks at Death Valley's Little Brother. We also wanted to give them a shout out for kindly donating some delicious coffee as a raffle prize to Bustard's Charity Car Show on September 23rd. We are so happy to operate in a community that cares so much! Thanks for your support DVLB!

You can check out this amazing café online at DVLB.ca, or visit them on facebook HERE.